Now that the kitchen is almost complete–the countertops need work–we have mostly been trying to stay cool. Like everyone else, we're under some "heat bubble" and dealing with 100+ temps. The ONLY thing to do is stay inside as much as possible. And pray that the electricity doesn't go out. What better way to be held prisoner in your own home than with a bit of quilting?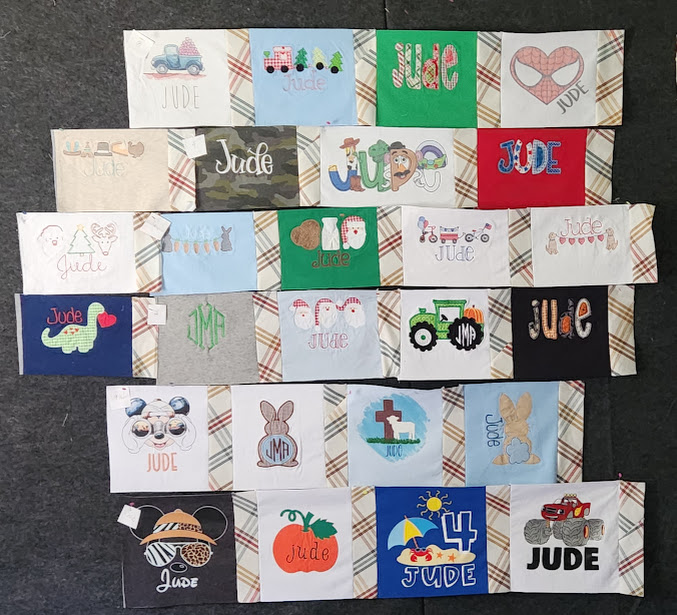 A former student contacted me a couple of weeks ago wanting tee-shirt quilts for her two little boys. I do not like making tee-shirt quilts, but I'd just gone on a quick girls' trip with my sister and niece, so the money was definitely needed. Plus, it's still difficult to say no to students. In the end, I said yes.
The first quilt was a bit difficult…I had to figure out how I did this years ago. I kept second-guessing myself. Firstly, I knew I'd need to add some fabric to create extensions so the shirts would fit in rows since there were sizes from 2T to children's 5-6. Mom asked for "boy colors." I found a beautiful boy-colored plaid. It might have worked but I doubt it. After a few rows were on the design wall, I began thinking that everything was too busy. Of course, I kept going. The moment I saw the (almost completed) quilt top in my camera lens, I knew.
Everything came down and came apart. It took me and Richard about 45 minutes to rip ALL of the seams. He was a darling for helping me, but what else is there to do? Not escape outside.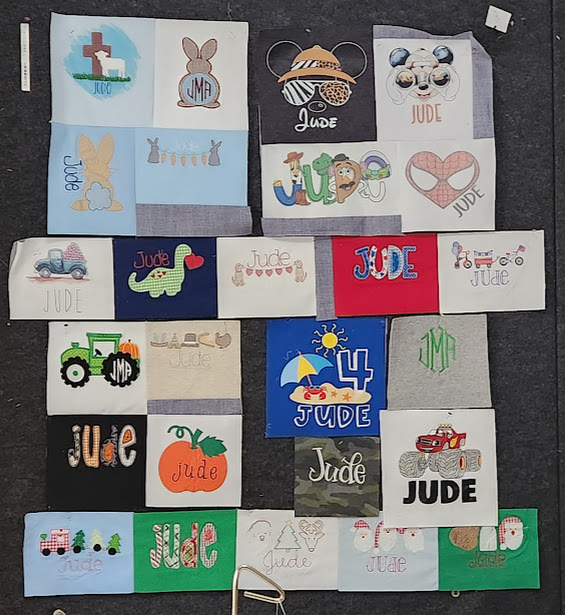 With a clean slate, I began again once the pieces were apart, pressed, and trimmed. This time using an almost solid blue that sort of mimics denim. It's perfect. I also "chunked" the themes so that the Christmas designs are together, as are Easter, Disney, Valentine's, etc.
At this point, all that was left was to do the math to put in the sashings. I can't "just do the math" unless I struggle. And struggle I did. Even then I didn't get everything correctly centered. Mary math! Regardless, we got there and this baby was ready for quilting.
I so enjoyed the quilting and used an overall stipple design but added individualized quilting for each shirt. Little surprises are my thing, so there are pumpkins in the fall section, fire on the monster truck shirt (it has a fire motif on the door), Christmas trees across the bottom of the Christmas row, and so on. I do this quilting using improv and decide as I get to each shirt or section. Nothing planned, no stress, no ripping. Now that's the way to quilt!
Today this one is complete except for the label, which I will iron on when the second quilt is ready. It is this week's project and along much faster. Then, after a photo shoot, momma can pick up her babies' quilts. Finally, here's a link to other tee-shirt quilts on my Pinterest "TRUNK SHOW QUILTS" board.