I love a finish. Don't you? This one's been quilted for a little while, actually. However, it was waiting for the binding and label. Then it needed a label. Always the label. I think I've resolved that problem. Maybe. Back to that later.
Anyway, last summer I cut some of the plaids to make a small quilt, which I haven't written about yet, so it's going on the list. While I was cutting that one, I cut six-inch squares for this one. This I wanted to be much larger than the baby/lap quilt. It was easy, very easy, to put together. Just straight rows of blocks (every one different). Nine across, ten down for a nice sized 70″ X 78″ quilt. It's masculine enough to be titled "Big Boy Plaid."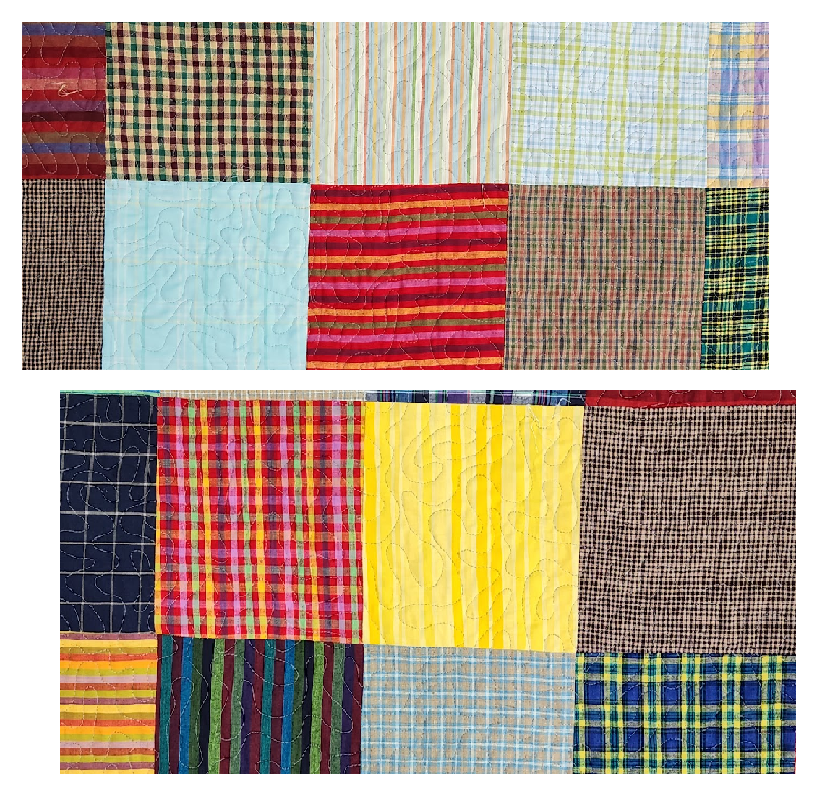 It was also a fast finish on the longarm. Medium stipples may be boring, but they do roll quickly. The backing is just a bunch of blues that I pulled to sew together. I like that one chunk of print in the almost center.
And now, the label thing. I decided to heat press my labels! Faster than embroidery. Neater than handwriting. Lots of fonts to choose from. Though I like this one because it's bold, it is NOT any easy weed. The vinyl is, but the tiny holes in the letters…NOT. The first vinyl labels I made on white fabric and stitched on. But eventually I got brave and put them straight on the quilt back. I'm not sure which I prefer. I'll decided that once I see which is more likely to stay on the quilt.
Finally, today would have been mom's birthday. We have Mother's Day, mom's birthday, and Father's Day all close together, so I generally wait until now to put new flowers on the grave and celebrate all of the days at once. I forgot the broom to sweep off the grass, so Rich and I prayed while we hand-dusted (literally) the top of the hot marble. Didn't her flowers turn out pretty?