I've been sewing for the nursing home a bit lately. Cookie's dementia has gotten worse in recent months. It helps to keep her mind and hands occupied, so I made a small fidget bear using Simplicity S8044 with the necessary modifications to add fidget items.
The arms and legs all have something interesting to touch or play with, such as ribbons and lace. I cut the bear from a purchased quilt that someone gave me a while back. I washed it first and found many small rips and tears to repair. In the end, I cut out the pattern pieces, made the repairs, then put the bear together. Hopefully it will hold together when the nursing home washes it.
Here are ideas for fidget quilts and bears: ribbon bows, buttons, watch bands, velcro, zippers, any kind of hardware, chip bags (for sound), string. You can find some of my fidget quilts on my Pinterest board here.
Sew everything needs down especially well. My biggest concern is that something fall off and cause an accident or pain. To resolve that, sew every item three or four times and, when necessary, sew items to heavy ribbon and attach the ribbon to the bear.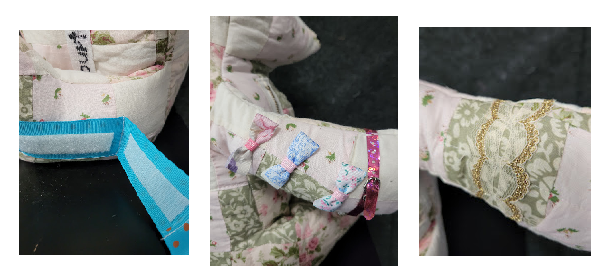 To attach ribbons into the bear seams, sew over seams an extra time or two to make sure they don't pull out or become disloged. I test my ribbons and such by pulling on them as I go along. It's much easier to make repairs along the way than to have to rip or "unstuff" the bear. The chip bag–which is great for a crinkly sound when squeezed–is fully encased in the bottom of a foot. Leave no loose ends!
Lastly, to help shape the bear (arms and legs closed rather than splayed open), I pinned them together with small wonder clips. A few days later when I brought the bear to Cookie, it was perfectly shaped. Have you made a fidget quilt or bear for a loved one? What did you add to it?